A few days back I was still roaming the streets of Dubai under the summer sun, already dreading the moment when coming back to the cold Austria I had left behind, I was pleasantly surprised when I woke up in my own bed on Friday morning being greeted with the most amazing spring weather and sunshine on end. I always use the time of the year when the temperatures start climbing into the 20s to sort through my wardrobe and dig my spring essentials up from the bottom of the closet..
Spring Essentials
My winter wardrobe is mainly defined by black and white items. After the cold and grey season, I therefore love to incorporate colours and patterns into my daily life again. As I get bored easily by regular black and blue jeans, brightly coloured trousers in all shapes and forms are a significant part of my spring essentials. The fashion of the 70s and 80s has experienced a revival in the last year and also defines the items filling the stores right now. Combining Culottes and colourful trousers with plain shirts and blouses creates an elegant yet bold look that can be worn in both office and free time.
Culottes and High Waisted Trousers
High waisted culottes and wide-shaped trousers made of a soft and comfortable material are the perfect spring staple to wear because they are easy to combine with both jumpers and shirts and also look amazing with a blazer and jeans jackets. I also love to add wide belts with cool buckles to spice the outfit up even more.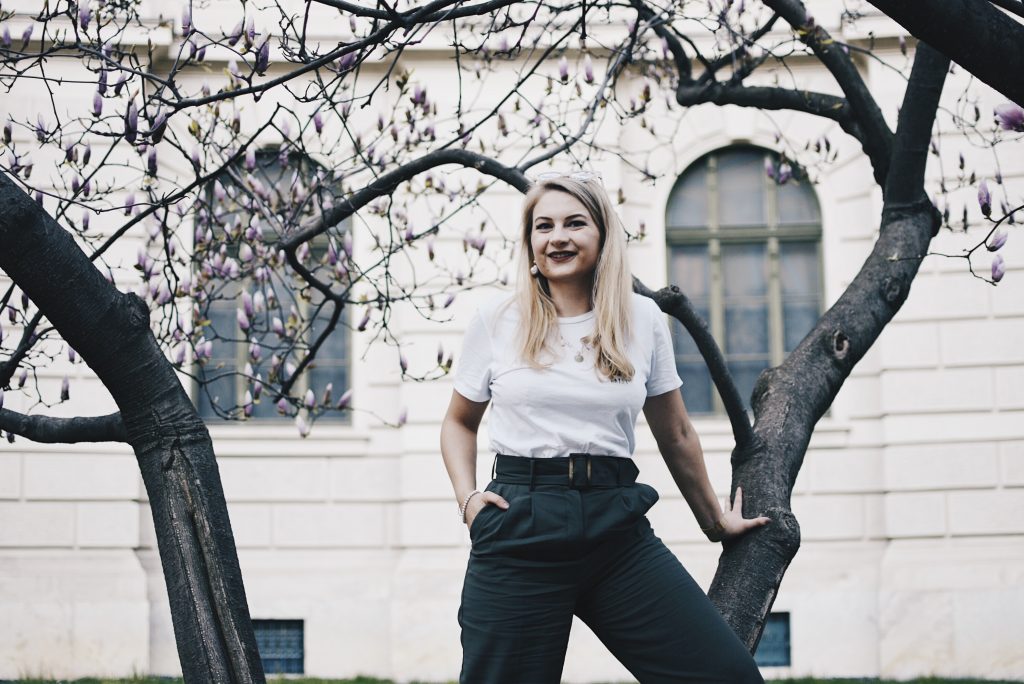 Jeans and Leather – Perfect Jackets for Spring
Speaking of jeans jackets – those have been around as long as I can remember and even longer. Levi Strauss was the first person to create a jacket made of denim back in the 1880s, which really speaks for the timelessness of the fashion piece. Modern jeans jackets are available in all shapes and colours, going from bell sleeved versions to the classic Levi's statement piece. Personally I enjoy the classic cut made of blue denim the most as it's a casual piece that can be combined with everything and thrown on when the evenings get cold.
What I enjoy wearing even more, however, are leather jackets. No matter how much time passes, the sleek look of all kinds of leather jackets will always add a dash of rock and classic coolness to an outfit. Leather jackets are easy to dress up and down, depending on the cut and colour of the piece. Whereas I am obsessed with my black classic leather jacket I wear year after year, I also enjoy creating a casual-elegant touch to the otherwise rather tough fashion piece. A soft and pastell pink adds a certain level of feminity to a rather sturdy material such as leather, showing that the colour really does have a huge effect on the vibes a fashion piece radiates.
Sun Glasses

Sun's out, sunnies out. Now that we can finally bathe in the glory of the spring sun again, we can also get our sun glasses back out. The 20th century has not only impacted modern clothing, accessories have hopped on the vintage bandwagon as well. Small skinny glasses from the 90s, tinted glasses, transparent and circular frames dominate the current market and make fashion lovers travel back in time for a day.

Just like my trousers, my collection of sun glasses is small but wild. starting at a triangle shaped, pastell pink piece with mirroring glasses and a tinted hommage to John Lennon up to the classic Ray Bans that have sneaked their way into legit everyone's accessory closet.
Soft Cashmere Scarves
Especially in spring, when the temperatures are still fluctuating scarves are an essential I never leave the house without. Rather often cold winds can change the weather conditions within minutes and the body is prone to catch a cold easier than during summer due to the constant temperature variation. The scarf I am wearing I bought in the souqs of Dubai but you can also get high quality cashmere scarves in store. Cashmere might be a more expensive fabric but a scarf is an investment and will last for years, so I highly recommend it – also, you won't find a softer material than cashmere, I love the feeling of the fabric on the skin.
If your budget doesn't allow you such a splurge, you can obviously opt for any other soft and light fabric as well that will keep your neck warm but not sweating in the spring sun.
The possibilities in Spring '19 are endless and diverse and it's amazing to see how fashion celebrates the young generation's wish and longing for individuality. I cannot wait to stroll around the city and see the many ways of how people express themselves and the new energy spring gives them through their clothes.