*sponsored post
I surely am not the only person around here who is helplessly fond of anything surrounding beauty. Makeup has been a passion of mine for a very long time. And even though I feel rather confident with a bare face, experimenting with new beauty items is one of my favourite things to do.
With Christmas fast approaching, instead of sharing my favourite pieces of clothing for a perfect Christmas outfit, I'd rather give you inspiration for a cool and wearable festive makeup look. And afterwards, for those of you who are still on the lookout for Christmas presents, I'll be adding a last minute beauty gift guide.
The Base
Bold and experimental looks that attract a lot of attention have never really been my thing in terms of makeup. Although I enjoy trying out new colours, I still always try to not overdo it. My approach and key to a great makeup look rather roots in underlining one's personal favourite features. Makeup is all about underlining what makes you feel beautiful, without makeup as well.
Skin Care
I personally, really do love the colour of my eyes which is why I love to accentuate them. Before you can dive into the details though, it's important to set a good base. Each skin types needs different kind of attention. I don't need a lot of skin care for my skin to look healthy as I have gladly managed to get rid of the acne on my forehead I had to deal with until I was like 21. But if you struggle with bad skin which is perfectly normal in your teens and early to late twenties, it's important to take proper care of your skin. Especially when you want to put makeup on after because as we all know it clogs your pores and might make it worse if you don't prep your skin well,
While many people swear on the brand "La Mer", I have to say this isn't a brand for cash strapped uni students. But there's plenty other products out there I would totally recommend as they offer products for any kind of skin, oily to dry. The various products by Kiehl's for example does amazing, nourishing products with a hydrating formula for normal and dry skin and oily skin as well.
Foundation
I used to be obsessed with MAC foundation but ever since I'm trying to let go of brands who test on animals entirely (I'm still in a transition phase so there's still products in my makeup bag that aren't cruelty free) I have been looking into brands such as Urban Decay, Too Faced, E.L.F. and Anastasia Beverly Hills. Every brand that wants their reputation intact these days has stepped away from testing their products on animals.
In terms of foundation I'd opt for Urban Decay as their formula is insane and they don't only offer an intense shade range, they also do great concealers with amazing coverage. Right now I am still working on finishing the bottle of MAC Pro Longwear foundation but after that I'm definitely switching to UD.
Eyes
For my eye look I used the Anastasia Beverly Hills Soft Glam palette I bought when I was in Dubai and I have been obsessed with it ever since. Due to the many shimmer shades and the combination with the reddish mattes you can create an amazing festive Christmas look by using the gold shades as a base and adding a smokey look by putting the reddish tones such as Mulberry and Sienna in the crease. That's what I did at least.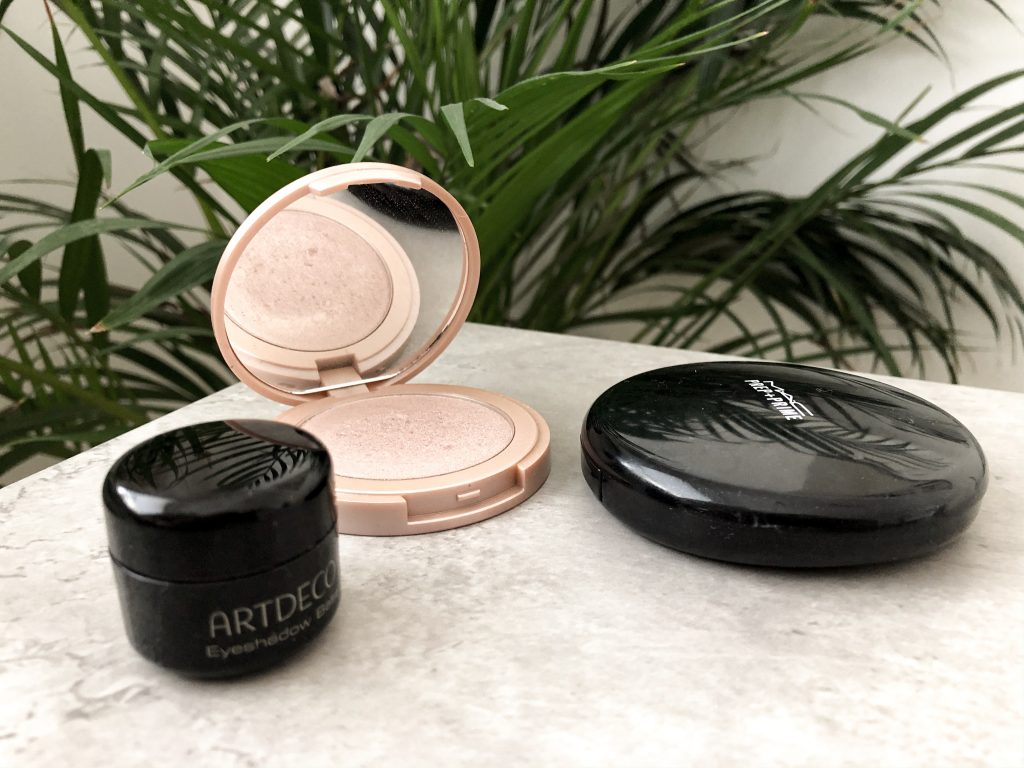 Pro tip: As a base I tend to put Artdeco's eyeshadow base on my lid, it makes the eye shadow stay ten times longer. I've gone through probably six to seven of these and they last me like half a year even though it's just 5 ml. There's even a blog post about my makeup favourites back from 2014 which marked the year of this blog and even back then I already used it.
Lashes and Brows
In terms of lashes and brows I'm rather easy to please as I don't use fake lashes. My eyelash curler also only makes an appearance whenever I feel like glamming it up for a night out. My lifesaver for the last couple months has been the Lancomé Hypnose. Found it in a goodie bag at Berlin Fashion Week and had previously spotted it in my mum's makeup bag. In this case I really do have to admit that I was influenced by her. I mean, it's worth the hype though.
Another mascara I am hopelessly obsessed with is the "Better Than Sex" mascara by Too Faced. The name is a bit far fetched but let's give it the credit it deserves, shall we? I am usually using the waterproof version due to my contacts but I used it up a month ago so I need to replace it asap.
For brows I have come to love everything Benefit puts out. I even dare say I like them more than Anastasia's brow gel, which might be due to my incapability to properly apply it but that's a whole other story. And as I don't want to look ridiculous during Christmas dinner I decided I'd stick to the items I know I can use.
Cheeks & Lips
Contouring and highlighting is usually the last thing I do for my routine and the items I use most are either Kiko bronzing powder I've had for ages but it's just so long lasting and it was a gift from my friends (for my birthday but it's totally suitable for Christmas as well obviously). Tarte might have a bit of a questionable shade range when it comes to foundation but I do love their highlighters a lot. For this look you'd need a more golden shade but I have their Amazonian clay 12-hour highlighter in shade "Stunner" I got in Dubai as well and I honestly love the glow it puts on your cheeks.
For this look, however, I went for the MAC highlighter in shade "Oh Darling" which I have had for longer than I should admit as well (I know makeup has an expiration date, but powders last a lot longer than it says on the packaging. Fluids, however, should not be used longer than advertised on the bottles.) As I said I am using up any makeup I have left of any brand that might not be cruelty free because throwing it away would be a waste of money and resources as well.
Christmas Lips
What better colour to go for than a cute christmassy reddish nude to finish up the look, I love using the NYX lingerie series for that as it's a matte liquid lip that is not only cruelty free but also has a better formula than many high end makeup brands (in my opinion at least). I used shade "Seduction" by NYX for this look. (Tip: Lick your lips after it's dried to avoid a tacky feeling.)
Christmas Gift Ideas
In my opinion, anything from a great Anastasia or Urban Decay palette up to Jo Malone candles or skin care make an amazing gift under every beauty lover's Christmas tree. However, here are some of my favourite gift ideas that I found at Douglas. (they also have a really cool deal going on, as you can get 25% of any perfume you purchase if you use the code "Winterduft". It lasts until December 23.)