Fall is my favourite season, not only because it turns nature into a bright wonderland full of vibrant red and yellow colours but also because fall is the season with infinite possibilities in terms of style.

Still having the summer months in the back of our minds, we don't really want to hide the skirts and dresses in the back of our closet for hibernation just yet. Just because it's slightly colder outside that doesn't mean that skirts and dresses can't be worn in fall and winter as well. If combined accurately, skirts and dresses can function as winter gear just as much as long trousers and jeans.

Blocking out the Cold.

The trend of combining heavy foot wear such as combat boots and sneakers with contrasting items such as skirts and dresses make adjusting the girly look to lower temperatures much easier. Especially in late fall and early winter, when temperatures continuously drop below the 10 degrees Celsius point, accurate foot wear is key, as well as tights that keep out the cold.
Probably one of the best inventions for fall and winter time are tights with fleece lining. I am aware that there is a high amount of women out there who find tights annoying, unomfortable and just an over-all nuisance. I, however, have figured that especially these soft, cozy tights which provide additional warmth due to their lining, are a lot more comfortable than the usual see through tights. Fleece tights are available at every major high street store such as H&M and Topshop and are rather sturdy and have a high quality/price ratio. Stores like Primark have rather affordable options as well if you're on a budget.
My Fall Guide to Skirts and Dresses.
If I had to define my personal style I'd refer to it as casual-chique, as I love outfits which have an elegant twist but are still wearable on an everday basis. Dresses and skirts are amongst my general staple pieces and also incredibly easy to just throw on in the morning for work and other occasions.

(Linked the items I found online beneath the pictures, just click on the item an it'll lead you to the website)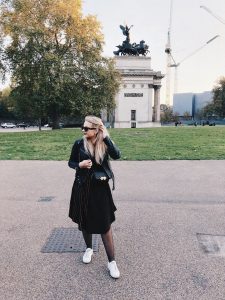 Dress: Only, Belt: ASOS, Jacket:
Zara
Outfit 4:
Skirt: Zara, Jumper: River Island