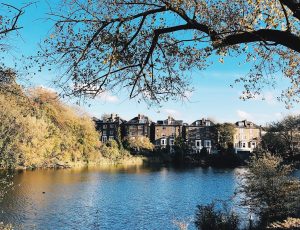 In the last couple years I have been to London on quite a regular basis, either for business or simply to enjoy myself in a city I have considered a second home from the first time I visited back when I was 16. Even though I dare claim that I know London rather well already, I still find myself stumbling upon the most picturesque and breathtaking spots and areas, sometimes hidden in the outskirts of central London, which only make me fall in love with Britain's capital even more.
I almost spent an entire week in London, visiting a dear friend of mine, catching up and reuniting with friends from my time at uni in Manchester. At this point, going to London has stopped feeling like going on holiday, it has more turned into the heartwarming feeling of returning home.
Hampstead
Away from the city centre, further up in the North-West of London, behind Regent's Park and Primrose Hill, when the tourists fade from the street and cute, small town houses with flower beds and colourful doors line the streets, one enters the the district of Hampstead. Independent cafés, tiny shops and independent creatives call the main streets of the area their home. Taking the Northern Line train to Edgware up north, exiting at Hampstead Station, one enters a picturesque, scenic street full of local life, seemingly far away from the rush of central London.
A 20 minute walk away, one will find Kenwood House embedded into Hampstead Heath, which shapes the whole district. As a former stately home, the building once served as a seat for various aristocratic families and still radiates the same heroic charm of past times.
(Notting Hill fans will recognise the building because it was featured in the iconic movie from 1999.)
Nowadays one can wander around the gorgeous garden areas and enjoy coffee and cakes at the café at Kenwood House.
Walking down the Heath you feel entirely detached from the vibrating metropolitan life surrounding the wood and grass fields, opening space for nature and its natural sound. The only reminder of the city spreading around the Heath is the stunning view from one of the hills, overlooking London, with the Shard reaching for the sky in the far distance.
Approaching the Heath from the station Hampstead Heath, you will not only find yourself in a gorgeous street with tiny bookstores such as Daunt Books whose employees have genuine passion for the art of literature, you will also find a small pond connecting residential areas to the beauty of the Heath that unfolds up north from that point on.
After all those years of visiting London and continuously being astonished by the beauty and rich culture of Britain's capital, I still end up being mind blown whenever exploring new areas of the city I keep dearest in my heart.