You don't always need to travel far to experience world's beauty, sometimes it can be found right around the corner only a short bike ride away. Humans tend to have the urge to get away and leave their homes behind in order to find peace of mind and discover new places.
Ever since living abroad in the UK I have realised how little we care about the beauty that surrounds us on a daily basis. We start taking our environment for granted forgetting to consciously look at the wonderful place we're living in because everything inside of us is just constantly urging for the far away lands of unknown mysteries.
When living in the UK I tried to get around as much as possible because I wanted to get to know the country and its people and encounter things I hadn't seen before. When talking about my trips with my UK friends, the answer that I most frequently got when asking if they had been there was "No". This fact made me realise how much we take our home countries for granted. We don't see the point in exploring what is around us everyday, we don't make the time for a 30 minute drive to leave the city behind and go on adventures in the forests and mountains we call our home. Instead we make time to plan trips abroad, for the sake of crossing things off our bucket lists and for the sake of telling friends that we've travelled the world.
Travelling is one of the most amazing inventions mankind has ever had. But travelling, in my opinion, does not only involve those trips we look forward to for months and which take us places that are so different from what we are used to, it's also the trips we spontaneously decide to do. Those trips to castles embedded into the skyline of your own home town that you haven't come around to visit in five years of living here.
Travelling far is exciting, and important. But exploring what one calls home is just as important. You develop a newly found appreciation of the world around you and suddenly you notice all the small details that make your home special that have been overlooked for years because our mind has gotten so used to seeing them every day.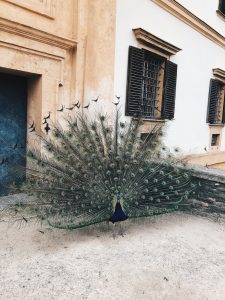 Shoes: Vagabond; Jeans: Only; Jacket: ASOS; Glasses: Mango
GET THE LOOK:
(
pictures are ©TheStylePolaroid 2018
, the brands are mentioned beneath the pictures, credits to the designers)